The Mooney Suzuki es una banda de garage rock and roll de NYC formada en 1996 por Sammy James, Jr. (guitarra/voz), John Paul Ribas (bajo), Graham Tyler (guitarra) y Will Rockwell (Bateria). Han lanzado cinco álbumes, Mooney Suzuki, People Get Ready, Electric Sweat, Alive & Amplified, Have Mercy. El sonido de la banda se puede describir como rock-and-roll de gran energía, dibujado tambien por el soul, el garage, y por las influencias de la invasion britanica. Su nombre se toma de los primeros dos cantantes de los años 70 de la banda Can: Malcolm Mooney y Damo Suzuki.

The Mooney Suzuki - People Get Ready (2000)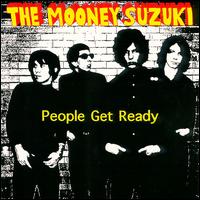 1. "Singin' a Song About Today"
2. "Make My Way"
3. "Half Of My Heart"
4. "I Say I Love You"
5. "My Dear Persephone"
6. "Oh No"
7. "Right About Now"
8. "Make You Mine"
9. "Everything's Gone Wrong"
10. "Do It"
11. "Yeah You Can"
12. "Everytime"


http://www.mediafire.com/?ty2wtgytnm4
The Mooney Suzuki - Electric Sweat (2003)
1. "Electric Sweat"
2. "In A Young Man's Mind"
3. "Oh Sweet Susanna"
4. "A Little Bit of Love"
5. "It's Not Easy"
6. "Natural Fact"
7. "It's Showtime Pt. II"
8. "I Woke Up This Mornin'"
9. "The Broken Heart"
10. "Electrocuted Blues"


http://www.megaupload.com/?d=9WB1YS2V
Pass:
filmuzika
The Mooney Suzuki - Have Mercy (2007)
1 "99%"
2 "This Broke Heart of Mine"
3 "Adam & Eve"
4 "Ashes"
5 "Rock 'n' Roller Girl"
6 "First Comes Love"
7 "Mercy Me"
8 "Good Ol' Alcohol"
9 "The Prime of Life"
10 "Down But Not Out"
11 "Leap of Faith (bonus track)"
12 "You Never Really Wanted To Rock 'n' Roll (bonus track)"
http://thepiratebay.org/torrent/4379220/The_Mooney_Suzuki_-_Have_Mercy
(Torrent)
The Mooney Suzuki - Alive & Amplified
(2004)
1 Primitive Condition
2 Alive & Amplified
3 Legal High
4 New York Girls
5 Shake That Bush Again
6 Sometimes Somethin'
7 Loose 'n' Juicy
8 Hot Sugar
9 Messin' in the Dressin' Room
10 Naked Lady
http://btjunkie.org/torrent/The-Mooney-Suzuki-Alive-amp-Amplified-2004-320kbps/377822c8307c5cbfe3a671e8b2f18a2ea98426b57338
(Torrent)